I am no longer using my old e-mail address. Please contact me via fishbig@yahoo.com or PeterBoyle_X.tripod.com. Please do Not post your movie review on the discussion board or e-mail it to the webmaster! Reviews are no longer being accepted at this site.

This latest version of Washington Irving's short story, is, by all accounts, a lot like ye olde X-Files. Written by Andrew Kevin Walker (8mm, Seven), Ichabod (Johnny Depp) is now a New York cop out to investigate some mysterious beheadings. Ichabod was shoved into this small town because his crazy scientific methods were getting on the nerves of everyone back in New York.
Of course, everyone in Sleepy Hollow insists it's a Hessian ghost, but Crane is out to prove that there is a scientifically valid explanation for the deaths. There is also, as you can guess, a lot of creepy, scary, bloody stuff going on, setting this horror/thriller version far apart from that grand old Disney cartoon. Anyways, there're still Brom Bones (Casper Van Dien) and Katrina VanTassel (Christina Ricci) out causing Crane romantic turmoil. And don't forget the wonderful score that Danny Elfman composed. For more info, check out the links!
---
Sleepy Hollow is set to be released on November 19 in the US, on January 13 in Australia, on January 6 in the UK, and on February 11 in Denmark.



---
This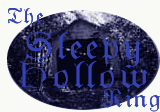 site owned by

.
[

|

|

|

|

|

]

This is not the official Sleepy Hollow site and has no affiliation with anyone involved with the Sleepy Hollow film. Site owned by RJAC.